Results Leak Causes Bookmakers to Suspend NBA 2K20 Betting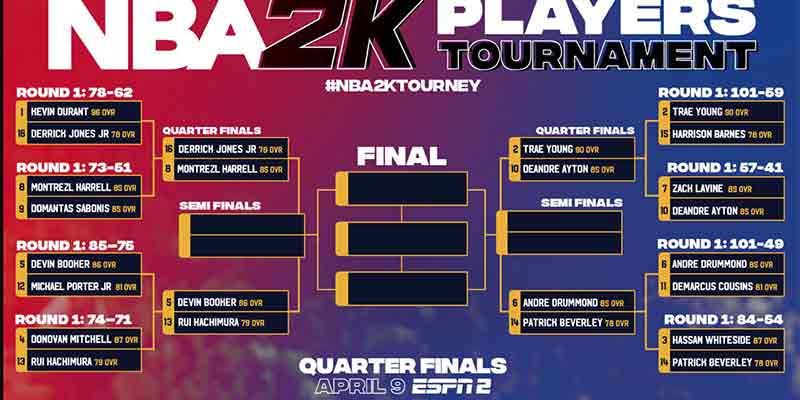 The NBA, just like other sports all around the world, is currently on a standstill due to the ongoing coronavirus pandemic. Both the league's players and fans have had to stay at home as part of the bid to contain the virus. Needless to say, these are very tough times and many people are looking for ways to cope with the isolation. Some of these have included lots of alternative betting options.
That said, 2K Games has recently organized and NBA players only tournament for NBA 2K20 their latest basketball video games. For many basketball fans, this presented a fantastic opportunity for them to continue engaging with the game and the players.
Sports bettors were not left out since online bookmakers also rose to offer odds on the NBA 2K20 Player Only tournament. Things, however, took the wrong turn recently when the result of the video game tournament leaked online. This marked yet another huge setback for the online sports betting operators who had already suffered from a huge setback after sporting activities were suspended amid efforts to fight COVID-19.
How It Happened
The NBA 2K Players Tournament was an arrangement that was made possible through collaborative efforts between 2K, the NBA itself and the National Basketball Players Association (NBPA). It would involve a total of 16 current NBA players battling each from the comforts of their homes. These players were selected based on their past performance playing the game.
Whoever won the tournament was to receive a $100,000 donation from the organizers. This amount would go towards the provision of support services to aid in the fight against the coronavirus pandemic.
The whole tournament would be pre-recorded and that is where the problem seems to have come from. As it turns out, the results of the tournament seemed to have leaked before the broadcast of the video game tournament which had been underway since April 3.
"We initially made Durant the favorite to win the tournament, but he was taking very little action over the course of the first 24 hours. When we posted the first-round matchup lines and the bets were completely one-sided toward Jones Jr., it became obvious that someone knew the outcome of the game."

Robert Cooper, Odds Manager at SportsBetting.ag.
This is, of course, a huge problem and the bookmakers responded by suspending all betting on the very exciting video game tournament. David Strauss, the head oddsmaker at MyBookie.ag said that the decision was necessary and that they would be looking for information as they investigate the matter. He has hinted at finding some info in forums or Twitter.8