NFL Betting – The Complete Guide
If you are keen on finding out more about NFL betting, you have come to the right spot. The odd pieces of info you have been able to glean here and there after spending a fair lick researching the odds. Well, not all guides offer the complete picture and we are proud to help you find your feet in a world of spread bets and money lines, futures and outright winners.
The local language is not all that complicated come to think of it. A few terms under your belt and you will be using the lingo of the accomplished pro. If you love the occasional number crunching, our guide to the most noteworthy aspects of calling the outcomes of matches will certainly hook you up with the needed guidance. If you want to learn about the different betting strategies available and how to have a good time while adding to your bankroll, read on.
Best NFL Betting Sites
How to Bet on the NFL
All activities boil down to one single thing – knowledge & practice. Familiarity with the league is a stepping-stone to future success. And even more importantly still, a passion for the game itself could be a driving force. NFL betting should not be understood as a source of income. It's a fallacy that costs novices fortunes. Instead, the focus should be on how to get the right outcome of a game.
By learning to spot trends and capitalize on them, you can turn yourself into a successful bettor in the matter of months. Match bets are the dominant option you will have to pick from with most bookies you go to. However, the saturation of the market has spawned a whole cohort of operators trying to introduce more intriguing options for the well-seasoned gamers. And it works.
Looking at the ample choice of bets, it's hard to imagine that NFL betting cannot be lucrative, though, often taken with a pinch of salt. So how to really pin down what we need to know?
Team analysis should be a byword for success in your endeavors. This doesn't mean to sit down and actually start looking through complicated calculations. Not in the slightest. Often times having a simple statistical check would be quite satisfactory. Comparing how certain squads fared against one another in the past is a potential measure for future success.
Looking for an angle comes as the default strategy you may wish for. An edge could manifest itself in many ways. You could start comparing odds across bookmakers in an attempt to locate a chink in the armor of their offer. But even then, bear in mind that the odds aren't in your favor. Why? Because established bookies have departments crunching numbers and calculating probabilities. Just because you are not likely to spot a mistake, doesn't mean you should stop probing though.
Put in layman's terms, you will always want to be playing at a few bookies, two could be a fair way to begin. Rather than investing solid bankrolls with either one, you will have to focus on divvying up your funds and allocating them properly.
When the season arrives, you will simply have to see whom you want to back as a team and then compare the odds across the bookies, which is one of the best ways to negate the house's edge.
Reading NFL Odds and Lines
Having had a taste of what betting is overall about, we may now focus on the odds and so-called lines.Taking a more thorough look through the list of available markets is an important to find our feet in this challenging industry, but also the most reliable manner to cut your teeth in the segment. So why bother delaying?
Depending on the time of the year you may have to pick from future bets, teams to blast through the group stages and right into the playoffs, or win the race outright. Those of course are the type of wagers you will have at your fingertips before the season kicks off in earnest. Once the NFL derby unfolds, you will be able to try and outpace the competition in a convincing manner. But let's face it – the competition is the house.

Reading the NFL odds is a two-fold process. First, you need to understand what you are looking at. Our recommended type of odds is decimals. They are plain easy to read and will never put your mind in a twisted turn of mind.
If the odds say 1.5 for a particular team, it means you stand to win $1.5 by wagering $1. That's pretty decent. If you want a more detailed look into the odds, you can also consider probabilities, i.e. what the actual chances of an event coming to pass are.
Moneyline is another preferred format. What the (-) and (+) value mean? They simply denote how much you stand to win. If you have -125, for example, it means that the team you are wagering on has a greater chance to win. As a result, you will be asked to stake $125 for the opportunity to add $100 to your bankroll. Both moneyline and decimal odds are widely used. In the UK, you will most likely come across the fractional sort, but those are covered in a separate section.
The implied probability helps you visualize your chances of actually turning a wager into profit better, which in turn can drive better decision-making. Additional aid can be sought in the available data. Compare how teams have done in particular situations, as we suggest. And yet, do consider the latest performance of the team and winning streaks as well.
Different Types of Wagers
As previously mentioned, the types of wagers available will depend on what time of the year you are priming your NFL betting engine. If it's the early summer, then prepare yourself for the dead of the hot months. Closer to September and you are already start seeing the specific wagers sprouting.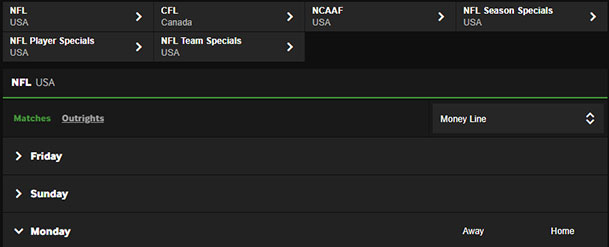 Bookies may list NFL bets as American Football
Futures will take a great part of the types of bets you may place. Matches are another preferred option, too. Speaking of the available wagers in detail, you will notice that one of the trendiest features to take advantage of certainly is the In-Play options that many bookies are adopting more readily than ever before in the history of sports betting.
Prop bets are based on special conditions within the game being met. These may be how many touchdowns a player will carry out or what the total number of points will be. If you are looking for similar point-based wagers, you may consider Over/Under which have to do with the likelihood of the game finishing below or over a given threshold.
Moneyline we find rather simple to read. For the sake of example, we will use $100 as our basic betting unit.
Let's assume the following teams are playing:
Hamilton Tigercats +120
Montreal Alouettes – 130
First things first. The negative values (-) denote the likely winners. They also express how much money you have to stake to win $100. Conversely, if you opt for the positive value (+), you are backing the underdog. Their chances of winning are slimmer, around 45.45% based on the table. The upside is that you need to stake $100 to win $120, and a good read of the current performance of the trends could quickly relieve you of any doubt.
If the underdog has been performing better in its top-recent games, then any advantage attributed to the favorite could be re-examined, if not by the bookies, then by you. Spotting these slight aberrations from what is expected and what is most likely to happen is what is going to give you the upper hand.
One question still persists though – can we always trust the implied probability? The answer is – no. There are many factors that determine the outcome of a game, but observation will be what makes or breaks your game in the long term.
Finding the Best NFL Betting Sites
Having settled all matters pertaining to what we can do to adjust the game for the long-term, it's time to look for the best NFL betting sites. It's not as easy as it sounds. If you prefer, you can simply pick from our list of suggestions. You won't regret that, but rather – why not read on to find out more about what makes one such website actually good and a preferred choice over another.
Reputation is King Whatever you may hear, how trustworthy a website is will ultimately boil down to how much you can rely on them. If a bookie has avoided embroiling itself in shady dealings, it's a surefire sign that they are very much likely to continue upholding their good name at all costs.
Licensing The pesky little condition that will make all the difference in the eye of investors and very possibly how you approach the website. We still hold that reputation is more important than whatever a seal of a licensing body may hold. After all, we can cite numerous cases when bookies have been known to pay fines for stepping outside the boundaries of what is legal. Still, a license will have a great significance in determining whether you are safe to bet.
Gaming conditions This is a blanket term and we use it to cover a variety of things. In essence, we look at how simple it is for you to place wagers. We examine the offer and read through the website carefully to make sure that all the essential information may be found on the spot, without extra effort. Having sufficient betting options, markets and sports is no small part of the gaming conditions and we make sure to vet this aspect of a bookie thoroughly.
Ultimately, we curate the banking facilities. Depending on where your operator is located, there may be a few hurdles left to cover. For instance, you may not be able to use a certain payment option, and we investigate how reliable the alternatives are.
For your comfort and reassurance, we consult both the website as well as trawl the available data in the public domain to come with a detailed final picture of how simple or complicated moving money around with a given brand is.
Taking Punts on the Go – Mobile Compatibility
While not all bookies out there will have a dedicated native app, equipping you with an intuitive piece of software, the majority will still have a mobile compatible version. We test the brand's website for mobile compatibility with a number of devices, which completes the picture of how good your operator is. For the most part, you can easily make a bookmark on your portable device's display and connect to the mobile version in a simple tap.
A Final Thought on NFL Betting
If you love football, you will be thrilled to know that NFL betting is not some obscure activity earmarked for a handful of old fans who just haven't moved on. Not quite. The activity is very much vibrant and striking home with large swathes of youths who not only enjoy watching the game, but also practise it in college.
Our read of the best betting sites out there is a detailed overview of the many factors that create a reliable bookie. Looking for the next best decision you can make? Take a look at our dedicated reviews of NFL bookies!