Payout Speed:

1-3 Days

Payout Rate:

97.45%

Security:

Strong

Bitcoin Deposit:

Bitcoin not Accepted

Games:

Live Dealer

Video Poker

Devices:

Android

iOS

Windows
Play
INTRODUCTION
It's not very often that we have the privilege to review a truly outstanding poker operator. Global Poker card room is one of the world's best-established online havens. Launched only in 2017, this card room has shaped itself as a leader amongst US-facing websites.
Wherever you might be, Global Poker will cater to your specific poker needs, thanks to its remote gaming license obtained by the Malta Gaming Authority (MGA). In a word, Global Poker is a fully-authorized card room that promises to make your stay pleasant and highly lucrative.
Join the other 1,300+ people playing here at peak hours and play right from your browser. Global Poker has been optimized to support any high-end portable device. Find out more in our Global Poker review.
A LOOK AT GLOBAL POKER'S INTERFACE
Gaming at Global Poker is embedded in your browser. Registration will take you only a few moments to complete, with Global Poker not being over-demanding in the information they request from you at this first step.
Once you have cleared registration, you will first have to confirm your account and then you can start playing. The platform that underpins Global Poker is highly-responsive with minimum loading times. Browsing between the separate sections and options is instant, allowing you to quickly navigate the full offer of the card room.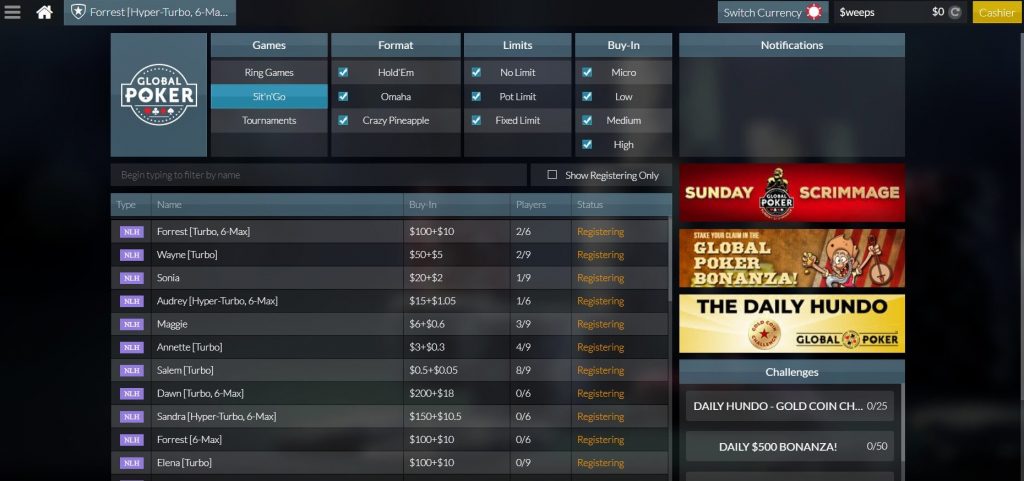 The main interface immediately introduces you to the most important gaming options. You will notice the selection of games immediately available in the main panel. The options are diverse with Ring Games Sit'n'Go's and Tournaments all available. There are a few extra adjustments that you can make while at Global Poker.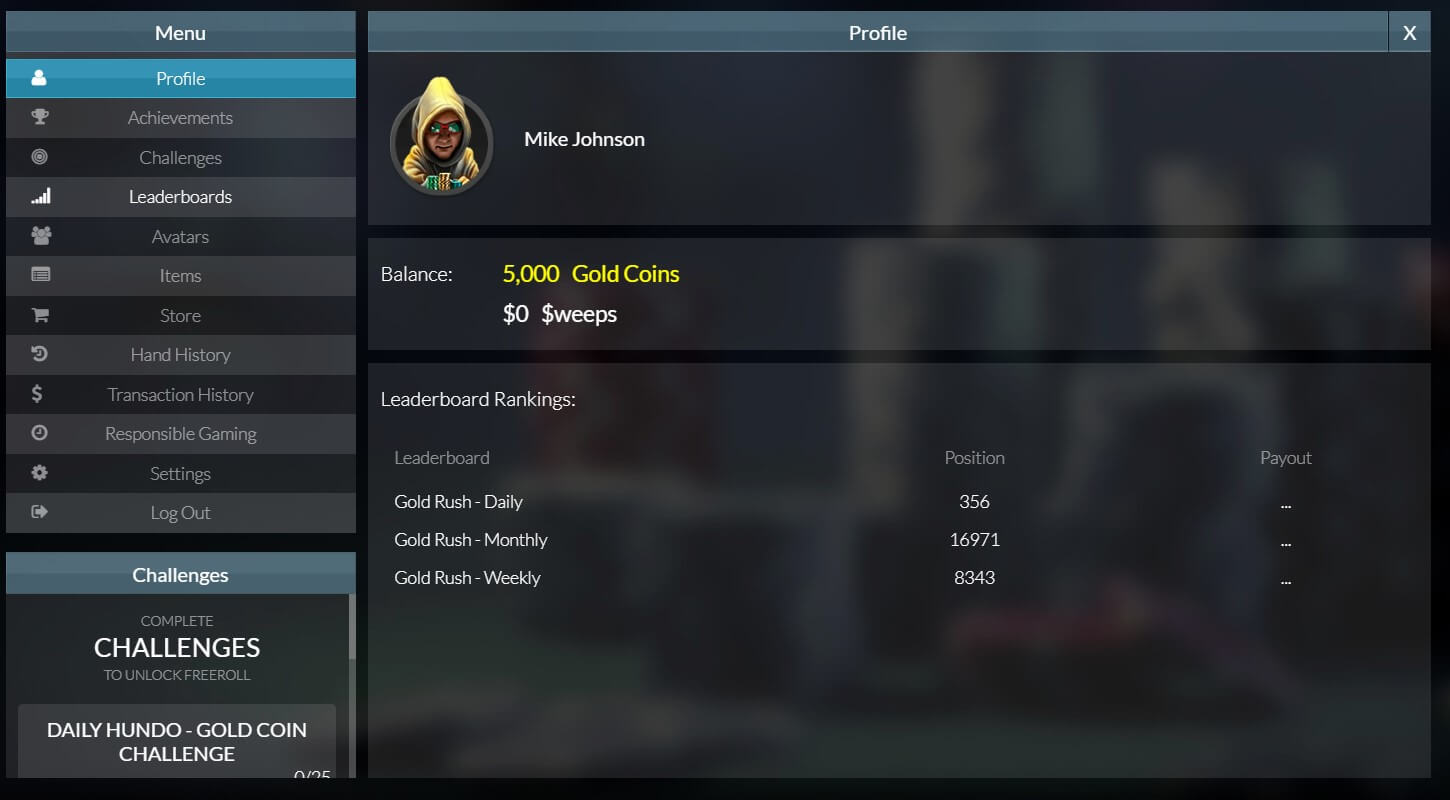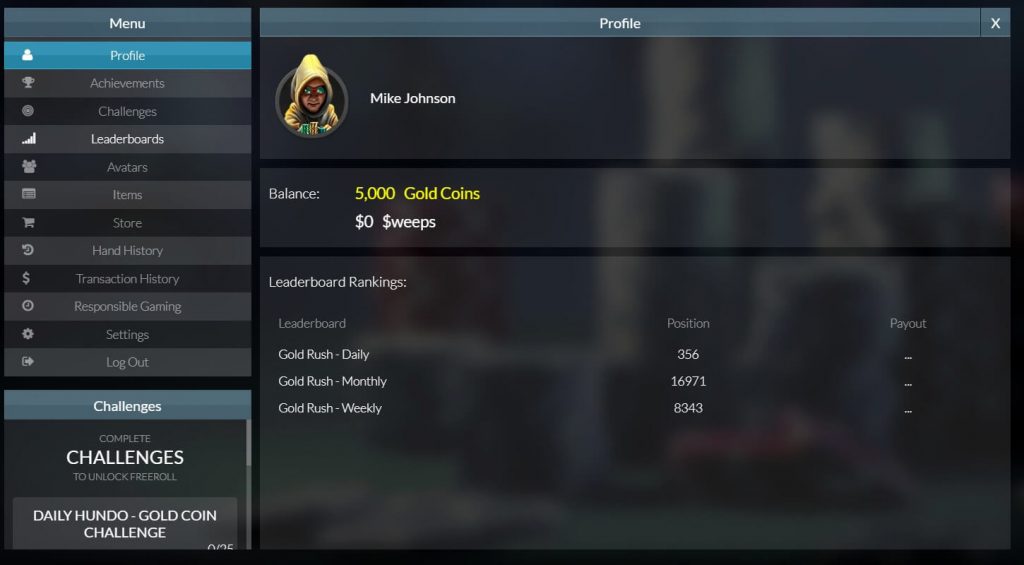 Global Poker has a very well-developed ecosystem which allows users to participate in various competition, reap different in-platform rewards, and even a store where you can snap up a few cosmetic goodies to make your experience more personalized.
You can add a final flourish to your interface through settings and by choosing an avatar that you enjoy the most. There's a host of other cosmetic settings that you can tinker with, including alert sounds, the option to muck losing hands, and use a pro mode to play multi-table competitions. Global Poker offers multi-table tournaments (MTTs), which are quite popular with the community.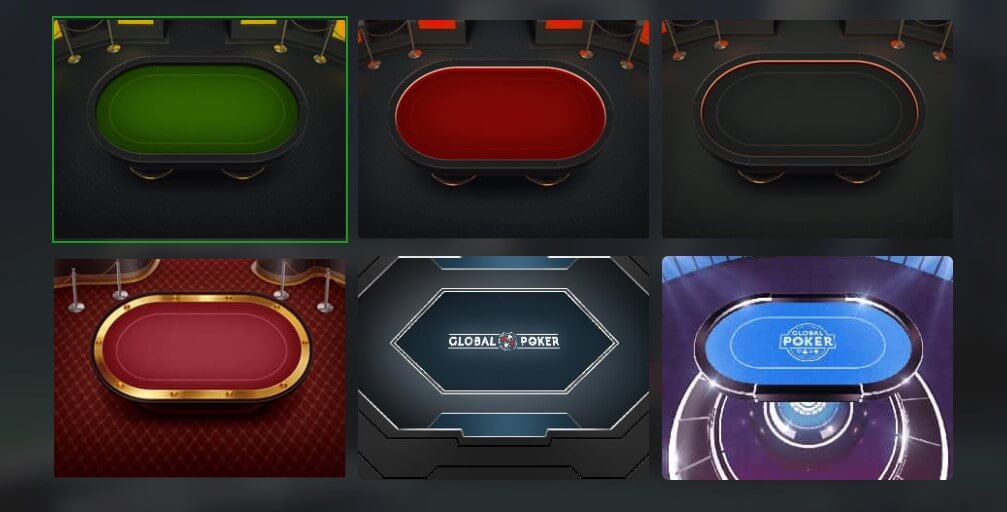 CAN YOU PLAY GLOBAL POKER ON YOUR PHONE?
Global Poker is fully adapted to provide you with top-notch gaming opportunities. This is why compatibility with multiple devices has been taken very seriously. You can play on this card room using your smartphone (both iOS & Android devices) as well as tablets and iPad. It's thanks to this accessibility that the community has been expanding.
EXPLAINING THE BUSINESS MODEL AND PAYMENT OPTIONS
Global Poker uses two main currencies. Gold Coins (GC) and $weep Cash (SC). GCs are non-redeemable and they cannot be exchange for real money, but you can use them to buy a few cosmetic items that add to the overall satisfaction of your gameplay.

As soon as you register, your account is credited with 5,000 GC which you can use to play in the designated games. GC are used just like play dollars and they allow you to study the game & competition. Besides, you still stand to benefit from practising as much as you want with no actual risk to your bankroll.
$weep Cash as the Main Currency
Each time you purchase Gold Coins, you are awarded $weep Cash. You can use this currency to join ring games, Sit n Go's, and tournaments, and the rate of exchange is SC$1 to US$1. $weep Cash is exclusively designated for customers from the United State and Canada, although Quebec is currently excluded from the offer.
In order to procure $weep Cash, you will need to purchase GC bundles. Most of them include the play currency, although there are some that will offer you just GC. You can buy as much as SC$1,000 at once. Understandably, there are far more accommodating options as well, and you can start with as little as $5.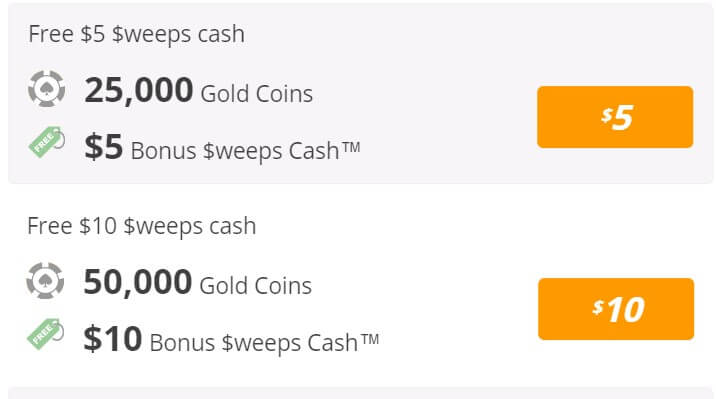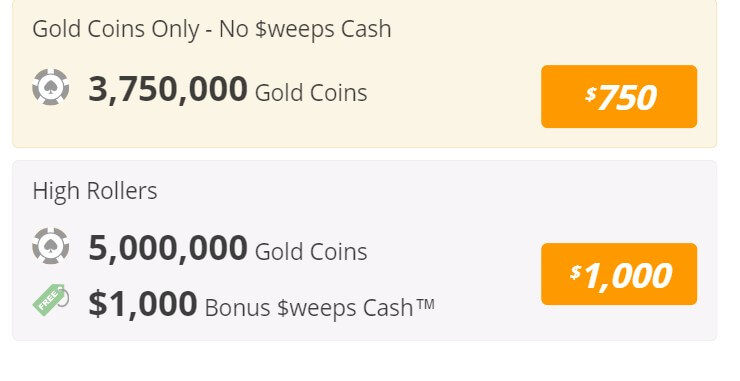 For the rest of the world, gamers can continue playing with Gold Coins. It's precisely the payment model adopted by Global Poker that makes this online card room a primary venue for U.S. and Canadian players.
Cashing Out and Identity Verification
Global Poker cash outs are quite simple. However, it's at this point that you can expect the operator to request that you verify your identity. You will need to provide information that confirms your identity and residence. Once the process has been completed, you're good to go.
SAFETY & SECURITY – PARAMOUNT AT GLOBAL POKER
Next, our Global Poker review focuses on the available safeguards that guarantee that your information and money is safe. The Malta Gaming Authority (MGA) license reaffirms the commitment Global Poker demonstrates to its customers.
Apart from the regulatory go-ahead, Global Poker has successfully integrated SSL encryption protocols, which offer that extra security layer that makes you feel that you are in good hands while playing.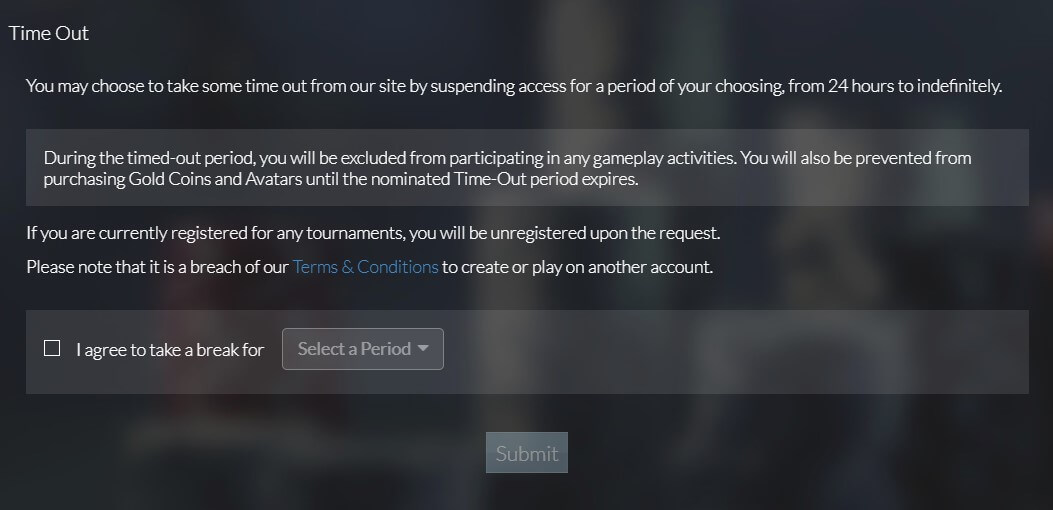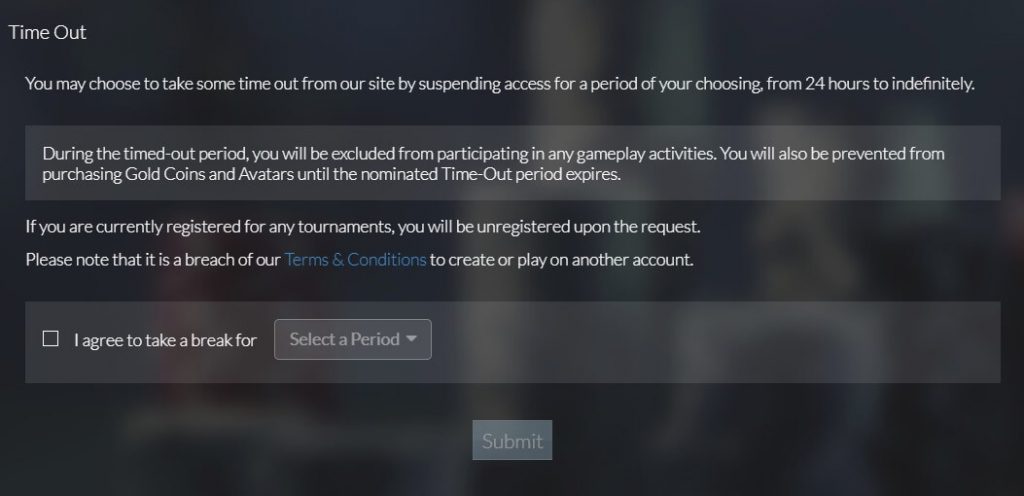 Lastly, and equally important, there's a Responsible Game box in the main panel menu, allowing you to exclude yourself from gaming at Global Poker for a specific period of time.
GAMES & TOURNAMENTS
There are quite a few games & tournaments going on at Global Poker day and night. Over 50 daily events take place, available for both GC and $weep Cash. This number pales in comparison with the available ring games and Sit 'n' Go's play options that you can readily choose from.
Most ring games feature 6 or 9 players, with the buy-ins starting at as low as $0.05/$0.1. On occasion, you'll see games that will host more people, including 18 and 27 players at the same table.
It's easy to navigate to the games that match your budget. As to the available game versions, you can choose from:
Texas Hold'em Fixed and No-Limit
Omaha Pot Limit and a few others
The size of the tournament also varies, but generally you can join the Sunday tournaments where you participate for a piece of the big $50,000 available in prizing cash.
There are multiple tournaments with respectable prize pools, ranging from $200 to $20,000. Registration is very intuitive and you can always find your way to a tournament that will match your needs and current objectives.
Tournaments will definitely fetch you the highest profit over time, but it's the steady grinding of Sit 'n' Go's and ring games that will help your bankroll expand over time.At any point during the weekends, you will find over 20 Sit 'n' Go's and ring games available, in addition to the tournaments that are running separately. Most games are carried at a regular pace, but if you want to find an option that will speed things up, you can opt for the Turbo or Hyper-Turbo versions.
Challenges – Same Game, More Profit
If you are looking for even more excellent options while playing, you've definitely come to the right place. There are daily and weekly objectives, which, if successfully completed will reward you even more SC$ to use on the various tournaments and games both on weekends and throughout the week.


It's a good way to develop an extra incentive for the game and grow your bankroll without actually interrupting your regular play. You can keep track of your challenges via the main settings menu, under "Challeges".
With this said, it's time to explain how customer support works at this card room.
CUSTOMER SUPPORT
Customer Support is an efficient option at Global Poker. The dedicated staff of the casino is available 24/7 and 365 days a year. Each request is processed at the highest priority, leading to a quick solution to anything that you might experience at Global Poker.
If you want to investigate an issue or just look for an answer, you can always refer to the FAQ section, which is tailored based on the customer care agents' own experience with other customers.
In most cases, you will always be able to find a quick solution to anything that you think needs additional investigation.
THE VERDICT
Global Poker is an excellent US-facing pick. If you are looking to really start building your bankroll and compete with an international crowd, this website will definitely become your new poker home.Apart from engaging with the high-paying tournaments and games, you can pursue various achievements, which will add to your SC$ and help you develop your online portfolio. Start topping tournaments and everyday competitions at Global Poker today!