Sports Betting Bonuses
A staple product of all bookmakers, the sports betting bonus has gained significant popularity among companies and bettors alike. Everyone who is just starting out in sports betting expects some extra financial heft and bookmakers never miss out on an opportunity to expose a customer to as much of their products as they can. Starting your forays into gambling with a financial incentive never hurts. Mind, a few things need consideration first.
#1

Betonline
Welcome Bonus:
50% up to $2,500
Sports
Casino
Esports
Poker
#2

Bovada
Welcome Bonus:
50% up to $250
Sports
Casino
Esports
Poker
#3

MyBookie.ag
Welcome Bonus:
50% up to $1,000
Sports
Casino
Esports
Poker
Sports Betting Welcome Bonus – What Is It?
The sports betting bonus is an incentive that the bookmaker usually contributes towards the money you deposit. It means that upon depositing a given amount of money, you will be rewarded a percentage of that amount and then allowed to use it and play with it. Upon successfully fulfilling a set of provisos known as the wagering requirements, you will be allowed to claim your earnings. However, bonuses come in all shapes and forms, and a closer examination is necessary.
By their nature, bonuses differ and we can distinguish between free bets, (no) deposit bonuses, matched bonuses, and lately mobile bonuses. All of these are rather self-explanatory, but let us take a closer look that will disperse any ambiguity that remains.
Free Bets
Free bets are among the best sports betting bonuses, providing newcomers with a quick sum to wager and multiply. However, most free bonuses will detract the amount of 'free money' you received, and only allow you to claim the winnings instead. Nevertheless, it is a fair deal and one worth taking any day. Usually, it is at a bookie's discretion who qualifies for the free bet.
Deposit Bonus
The deposit bonus means that the bookmaker will reward you with an amount equal to a percent of the sum you (first) deposit. An extension of the deposit bonus is the matched bonus where the bookmaker adds 100% of the sum you deposit to your bankroll.
Mobile Bonus
If there is one sports betting bonus worth your while, this is the mobile offer that sports bookmakers have introduced recently. In general, it matches the most common welcome bonus on the bookmaker where you are playing at. However, it may be an independent bonus, which can be used alongside with the desktop version of the welcome offer, effectively doubling your starter's capital.
Why Does It Matter?
While customers appreciate watching live sports and making a wager, they equally cherish the comfort of keeping an eye on their bets without having to be tethered down to a desktop computer. The fact that bookmakers have been able to introduce a mobile app that offers the same functionality as the desktop version of the website has been a major breakthrough in the industry and a resounding success.
No Deposit Bonus
A bookmaker may periodically award this bonus to loyal or struggling customers, without asking them to deposit any cash.
The Sports Betting Welcome Bonus That Comes with a Promotion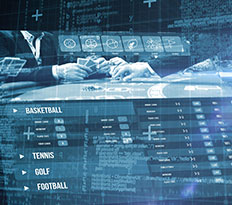 Apart from the single-handed goodies you may claim, there are more treats to take as part of a sports betting welcome bonus. Known as promotions, the welcome packages usually have to do with the overall offer of the licensed gambling company. In simple terms, you may get welcome bonuses for other areas of the bookie, including their video poker section, casino games, and all that is on offer.
You may claim a welcome package, which will incrementally inject bonus cash into your account and incentivize you to play. While such promotions are more common for the other iterations of the bookmaker you are staying with, they are not uncommon for a sports betting portal as well.
However, do not rule out the appeal of recurrent promotions just yet. You can easily benefit from exclusive features that have to do with your exclusive market alone. If you are a football enthusiast with a proclivity to bet, then you may participate in the weekly promotions that are accessible to rookie newcomers!
Still, accustomed gamer and well-seasoned pro should all know a thing or two about the sports betting bonus offers they encounter. They all hold a dear promise of riches but come with a few provisos that necessitate a quick perusing. For the sake of exclusivity, some welcome bargains will come with a bonus code and in all likelihood an expiry date. Some would like to call the code an anachronism, but it is an excellent way to keep things exclusive.
Only by carefully going through these requirements, can you fully understand and benefit from the offers, such as they are. Remember to keep an eye on the odds a welcome bonus would ask you to gamble your money at. Normally, bookmakers post their bonuses at odds of 1.5, but this number could fluctuate quite easily, going either up or down depending on the markets covered by the operator.
The Best Sports Betting Bonus and How to Select It
When you are dithering over a sport betting bonus all you need to do is follow the steps we have so far described. If some players tend to lose to the bookmaker, it is in most cases a failure to read carefully through the fine script. With this in mind, taking a few moments to sift through the provisos laid out in the wagering requirements may not take you long and you will have acquired valuable insight.
Always remember to pick an offer, welcome bonus or a promotion that is well-aligned with your current strategy and needs and allows you to supplement your stratagem. Chasing riches in online sports betting is not advisable. Instead, focus on successfully calling the outcome of the events and matches you are betting on.
A sports betting bonus worth your while is one that will reward your efforts and help you pursue your betting endeavour as smoothly as possible. Knowing how to benefit by the free extra money is a great addition to your arsenal of reliable gamer's solution. Use them wisely & well to your advantage.