Online Casinos That Accept PayPal
PayPal is the most popular e-wallet in the world, as millions of people use this payment service to shop online, transfer funds and even order food. It is also a great banking option at online casinos, and we are starting to see more and more gaming sites providing players with the chance to use this e-wallet to fund their accounts.
There are plenty of good reasons to deposit and withdraw at your chosen online casino using PayPal. From fast processing times to additional security, PayPal offers up various benefits that will only service to enhance your online gaming experience.
Benefits of Using PayPal at Casinos
When it comes to depositing at online casinos, using an e-wallet is one of the best options. They allow you make safe and secure payments without having to share any of your personal information. Even though you can rest assured that online casinos utilise the most sophisticated encryption to keep your details safe, some players want that extra bit of security – and, this is where e-wallets like PayPal come in.
Your PayPal account is linked to an email account, and that is the only information that you have to share with a casino when you make a deposit. All of bank details are stored with PayPal, who will fund your casino account as a middle-man.
One of the best things about using this service is that most people already have a PayPal account, as there are over 227 million users worldwide. So, if you want to benefit from all of the perks that PayPal has to offer, it is likely that you already have an account. You don't have to go out of your way to sign for Skrill or entropay account; the same payment service you use to shop on popular sites like eBay can be used to fund your online casino account. As such, it is one of the most convenient ways to conduct safe and secure banking while gaming online.
Casino Deposits Using PayPal
To make a deposit at a casino using PayPal, it works just like any other banking method. You enter the amount of money that you want to deposit and click PayPal as the funding method that you prefer to use. You'll then be taken to a PayPal login page where you will enter your PayPal email address and password.
Then, your account will be credited with your deposit bonus immediately. There is no need to enter your banking details, so you don't have to worry about any information being compromised.
Casino Withdrawals Using PayPal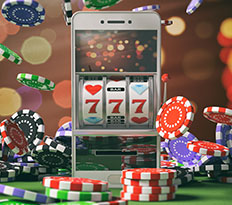 When you want to withdraw from your casino account using PayPal, the process is just as easy as making a deposit. Visit your Account page and enter the amount of money that you want to withdraw. Click on PayPal as your chosen withdrawal option, and you'll be taken to the same PayPal login page.
Processing times vary between different casinos and deposit options. Generally, you will have to wait between three and five days for credit cards and debit cards, up to a week for bank transfers and just 24 hours for e-wallets.
Then, once the money is in your PayPal account, you will have to wait on the service's own processing period. This can range anywhere from two hours to three days. Still, when compared to the other banking options, PayPal and other e-wallets tend to be quickest withdrawal options.
Can I Get a Casino Bonus Using PayPal?
The great news is that you can claim all sorts of generous casino bonuses when depositing with PayPal. In the terms and conditions of every online casino bonus, you will find which deposit methods can and cannot be used with the promotion. Neteller and Skrill seem to be the only banking options that are not compatible with certain bonuses, so you're usually in the clear when using PayPal.
When a match bonus or free spins offer is available, players are normally required to deposit $10 or more. More often than not, PayPal is an eligible deposit method. So, once you make that deposit (using the required bonus code if necessary), then you'll have a generous bonus in your account to play great casino games.
What Casinos Accept PayPal?
There was a time when PayPal dropped out of the online gaming market. This period only lasted for a couple of a years, but PayPal is making its re-entry. As such, you will find PayPal is not offered widely in the online casino world. There are still dozens of sites that allow players to deposit into their casino account with PayPal, but this is normally limited to the bigger names in the market.
So, if using PayPal is one of your main criteria when choosing an online casino, it is important that you make it a priority to research banking information for each site on your shortlist. Pick the best sites that offer PayPal, and be sure to make note of their minimum and maximum deposit requirements to ensure that they fit your specific gaming tastes.
PayPal continues to become increasingly popular among online casino players. You'll find more and more gaming sites that accept this e-wallet, allowing you to add an extra layer of security when playing your favourite casino games online, as well as providing you with quick turnaround times when making withdrawals. Banking at an online casino using PayPal is an easy process, and you can even claim some fantastic bonuses while you're at it.