CS:GO Betting Sites
Reducing enemies to pulp of listless corpses has to be fun. Good thing it's only happening on the screen of your computers. CS:GO has been one of the flagship titles of the eSports industry and a hallmark of gaming. Transcending generations terrorists, as the protagonists are known, and SWAT teams have been caught in a perpetual fight. Spectators have tuned in, decade after decade, to behold the never-ending between good and evil. A game of superhuman skill when played at the highest level, the Half-Life-inspired shooter is now a staple title of the eSports bookies. Care to find out which the best CS:GO betting sites are? Here's our breakdown!
#1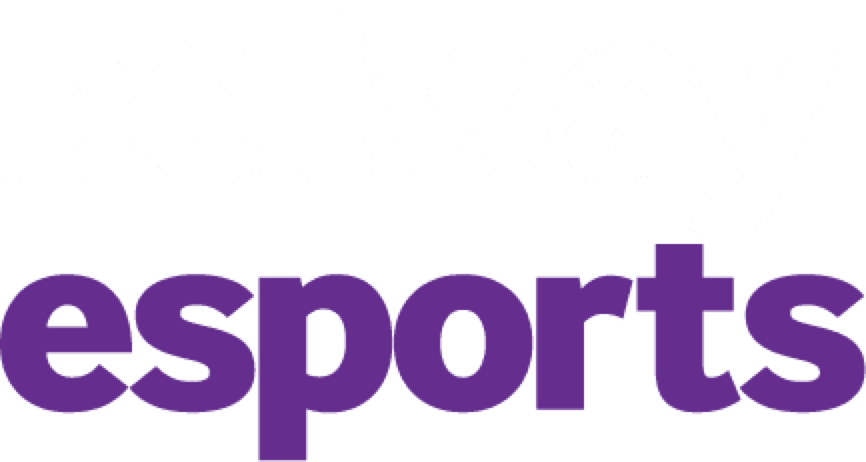 Betway Esports
Welcome Bonus:
100% up to $60
Sports
Casino
Esports
Poker
#2

EGB.com
Welcome Bonus:
100% up to $28
Sports
Casino
Esports
Poker
CS:GO – Headshotting the Bookmakers
Perhaps you want the extra fun that comes with having money on the line, gasping with every hit your team takes and rejoicing with every successful blow on the enemy your favorites manage. Or you can be in purely for the monetary incentives, the opportunity to use your knowledge and grasp of the game to quickly give yourself a leg-up and make a quick buck. Either way, you can find quite the selection of bookies that allows you to commit.


You may not be part of the action, diffusing C4s, tossing in smoke grenades or spraying walls and doors with AK-47 bullets, but this shouldn't stop you from predicting the outcome of the games, upping the ante in the process for you as a spectator. Exploring your options, you should always probe the proverbial CS:GO bonuses. No need to start you all 'eco' from the get-go. You can add to your bankroll without committing your own cash only.
Enter the Welcome Bonus – A Pariah
The welcome goodie is touted by many a decent bookie out there. Of course, operators want to reassure you that as soon as you come, you will get a bit of financial incentive to wager on any title you see fit. However, eSports has been a more difficult segment to tame, mostly because you – the punters, have been particularly savvy at getting the better of the bookies.
Having suffered rather grosses, the majority of bookies have decided that allocating extra funds to already a challenging enemy would be counter-productive for their business. But don't read the nefarious plotting of ill-minded individuals here. Bookies are just levelling the field, and for the first time, they are failing to keep up to punters.
In a word, the welcome bonus for Counter-Strike: Global Offensive may be a rare occurrence, but if you do come across a bargain, you will have to watch out for a few possible complications that may come along with the provisos known as wagering requirements. Even then, the bonus amounts are usually quite modest so you are unlikely to end up stuck with hefty sums.
And yet, some outliers exist:

Betting Markets – The Main Verticals
CS:GO betting sites can be split into endemic and non-endemic bookies. On the one hand, you have the traditional operators that have seen a lucrative market in eSports and have hurried up to bank on the segment.
Endemic bookies are the true champions of eSports. They don't rely on conversion rates. They don't care about mainstream sports. In fact, some have claimed that eSports could hardly be a single discipline. Or to put it this way – every video game should be their own full-fledged sport. A captivating idea for sure.
Our favorite shooter, however, has managed to go well beyond the realm of traditional wagers. You can place money on a variety of markets, tournaments, and possible outcomes or you can wager with skins. The verticals, in summary, are:
Betting with money
Wagering in-game goods called skins
Skins are the in-game goodies that clad your character and land it a unique appearance. The value of such frills could exceed thousands of dollars for a single make-believe gun. This is the vertical that we don't dabble with, as it has been outlawed. There are some bookies that offer to convert skins into currency and allow you to wager like this. In the words of such operators, they don't touch the skins themselves, but outsource this to third-parties. Still, Valve has been taking a rather hawkish stance on skins, issuing cease-and-desist letters.
Focusing on the other vertical would be a smart bet. CS:GO betting sites are running at full speed. You can rely on neatly saturated markets, which will reveal plentiful opportunity to stake your money on your favorite teams in all possible configurations. The list of available markets is also quite rewarding.
You can stake your money on virtually all types of wagers, from the more common match and tournament winners to the rather more challenging and specific exotic ones, asking you to guess which team will draw the first blood or win the most bonus rounds.

For the most part, the odds will be all listed in decimals, allowing you to quickly grasp how much money you stand to win (i.e. the displayed one) for every single currency unit you wager. You may come across other variations of the odds, but for the most part – they can be converted automatically from the website, which saves you a whole lot of trouble.
How to Assess the Game Better – CS:GO Tips & Tricks
Assessing the game and competitive scene themselves are important pivots to your future success as a gambler. However, in order to do so, you will need not only to be an avid consumer of the streaming content available. We have put a brief list of tips that may help you quickly get your feet into the game:
Learn the game, maps and objectives
Make sure to start following the primed teams to win competitions
Visit Reddit as it's a reliable board for obtaining insights
Know when to back out of a wager
Follow gamers on social media
Of course, trying to do this on daily basis would generally result in frustration. All you need though is persistence and a passion for the game, or at least a passion to follow the fortunes of the teams you are wagering on. If you are experimenting with the In-Play feature, which is quite common for CS:GO, you can find some arcane knowledge, such as which player excels with what weapon, to place an auspicious wager in the matter of seconds.
Still, the quick shoot-outs CS:GO games usually turn out to be, live betting is certainly an activity reserved only for the most accomplished punters. If you are having doubts where to begin, we recommend to quickly drop by a rough rank list, which will reveal the names of the best-performing squads and serve as a starting point for you.
If you are interested in probing all factors that may influence the outcome of an event, it's not unusual for teams to get embroiled with immigration authorities and not acquire their visas on time. However, you need to bear in mind that some bookmakers won't reimburse you if a team fails to show up. But a team dropping out, may completely rearrange the setting.
Now bookies and you both have a new pair to wager on. Chances are the bookie hasn't anticipated this development and their odds may be a little off. Speaking of travelling and visas, gamers are often jet-lagged or end up playing drawn-out games, which may effectively influence the following games they are scheduled to play.
All of these matters, and a keen bettor would know to keep an eye out for these small details that may end up influencing the outcome of games in a very significant way.
Looking Up the Proper Tournaments
Prize pools are through the roof and CS:GO is definitely one of the most covered games, not only by the bookies, but also by tournament hosts! Yearly, the high-profile competitions gamers take part in are hundreds. Many, if not all, of those are covered extensively by your trusted betting agency. However, how to make sense of the motley bunch of games. Let's start with the events that you will definitely want to follow.
You needn't worry about missing out on a tournament that matters, though. The market is properly saturated to allow you sufficient opportunities to catch up on any event you may have overlooked through no fault of yours. All that is necessary is to make sure that consistency guides your hand. And now, let's take a quick look at those events that may prove quite worthy of your attention.
ESL One
ESL One is a crowning event which reunites multiple eSports communities, but CS:GO is always there. You end up wagering on between 8 and 16 teams, depending on the year's format of the event and the dates are usually announced beforehand so you have enough time to place your futures and wait for a hefty reward.
FACEIT London Majors
The FACEIT event is a newly-fledged one, but it's been causing buzz. Held in London for the first time, the FACEIT event will provide you with sufficient opportunities to turn a profit. The event also features minor qualifying action, which adds to the overall betting opportunities easily.
DreamHack
DreamHack has quite the pull over gaming communities. CS is no exception. Held in Stockholm towards the end of the year, although a few more events are scheduled throughout the year. More commonly referred as the DreamHack Masters, you will certainly see some of the top names participate in the tournament and thus creating sufficient opportunities to wager on top-end eSports.
ELEAGUE
The ELEAGUE have been known for hosting fighting titles, but CS:GO has become a staple. Usually aired twice a year, the tournament has the whopping $1,000,000 in prize money, albeit they are subject to change every year (usually in an upward trend, though). Think you have been missing out on tournaments? Make sure that ELEAGUE is not one of those.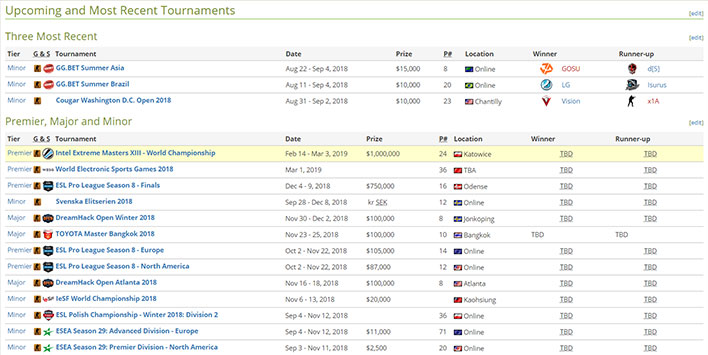 Naturally, keeping track on all tournaments can be a challenge and nobody expects you to. Dropping by Liquipedia could be a good start to apprise yourself of the upcoming matches. Mind, though, that if something has been changed, it will not necessarily show in the chart above. On the plus side, you will not miss out on an event, because as soon as you don't see the bets scheduled, you will know that something is not quite right and check for yourself.
Mastering the Game from a Distance
Understanding the ins and outs of Counter-Strike takes time. Thankfully, as one of the most touted titles out there, the limelight never fades from it. As long as you are connected to the Internet, you will be able to run every decision you could possibly make through the facts and available information.
Even if you need help, you may rely on the Reddit boards and other dedicated communities to provide you with enough food for thought so that your wagers may pen out the way you have always wanted them to. The top CS:GO betting sites will afford you the opportunity to turn your knowledge of the game into a fair penny.
Armed with your deeper understanding of the game, you may choose when to play for fun and when to stake sufficient money so as to guarantee yourself a solid return on investment. Beyond that, you can opt for multiple mock-up currencies, such as the ones available over at GosuGamers, or just have your friends bet against you in a homespun DFS-like contest.