ESPN Inks Sports Betting Content Deal with Caesars Ent.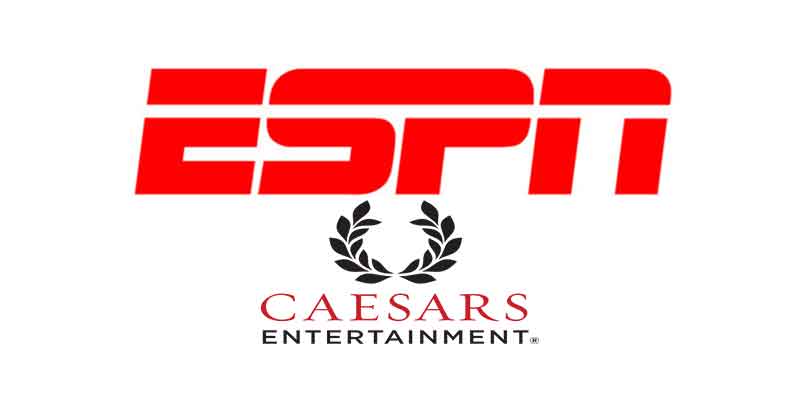 This week marks a whole year since the United States Supreme Court abolished PASPA and lifted the federal ban on sports betting. Over that one-year period, a lot has changed especially with regards to the expansion of sports betting activities across several states in the country. More interestingly, other parties, some of which were previously opposed to the legalization of sports betting, have found ways to embrace it and gain something from the activity along the way.
The most recent entrants into the world of sports betting are television networks which are slowly beginning to take a deeper dive into the activity through such initiatives as the integration of gambling into their programming. Some, like Fox Sports, have even gone as far as announcing sports betting apps that are set to go live in the course of the year.
Now, even ESPN has jumped onto the bandwagon by partnering with Caesars Entertainment which will now be the broadcasting network's official supplier of odds data across both its television and digital platforms. This means, that viewers will start seeing Caesars' branding on ESPN programming very soon.
Gaming Studio to Be Launched Soon
One of the key highlights of the sports betting content deal between the two companies is their new ESPN-branded studio that will be located at the Caesars-owned LINQ Hotel & Casino (pictured) in Las Vegas, Nevada. This studio is set to begin operations in the course of next year and it will serve as a hub for odds-related content while at the same time being a key contributor to ESPN's linear, digital and social shows, as well as on ESPN.com and the ESPN mobile app.
According to Mike Morrison, VP of business development at ESPN, the sports betting market has evolved significantly over the past year with fans of the activity actively seeking relevant information more than ever before.
"We are poised to expand our coverage in a big way and working with a category leader like Caesars Entertainment will help us serve these highly engaged, diverse sports fans with the best and most relevant content possible," he commented.
The studio is also set to play a monumental role during major sporting events especially when it comes to the growing number of marquee events hosted in Las Vegas. This, in addition to the fact that Caesars will be the official odds data supplier for the studio, makes the deal one of the most lucrative ones one the planet.
For the over two-thirds of avid sports bettors who already watch ESPN, this might actually be something worth looking forward to. The partnership, fortunately, builds upon an impressive number of stable-betting related content some of which have been around for over a decade. These include such shows as "Daily Wager", "ESPN Insider content", and "Bad Beats" among others.